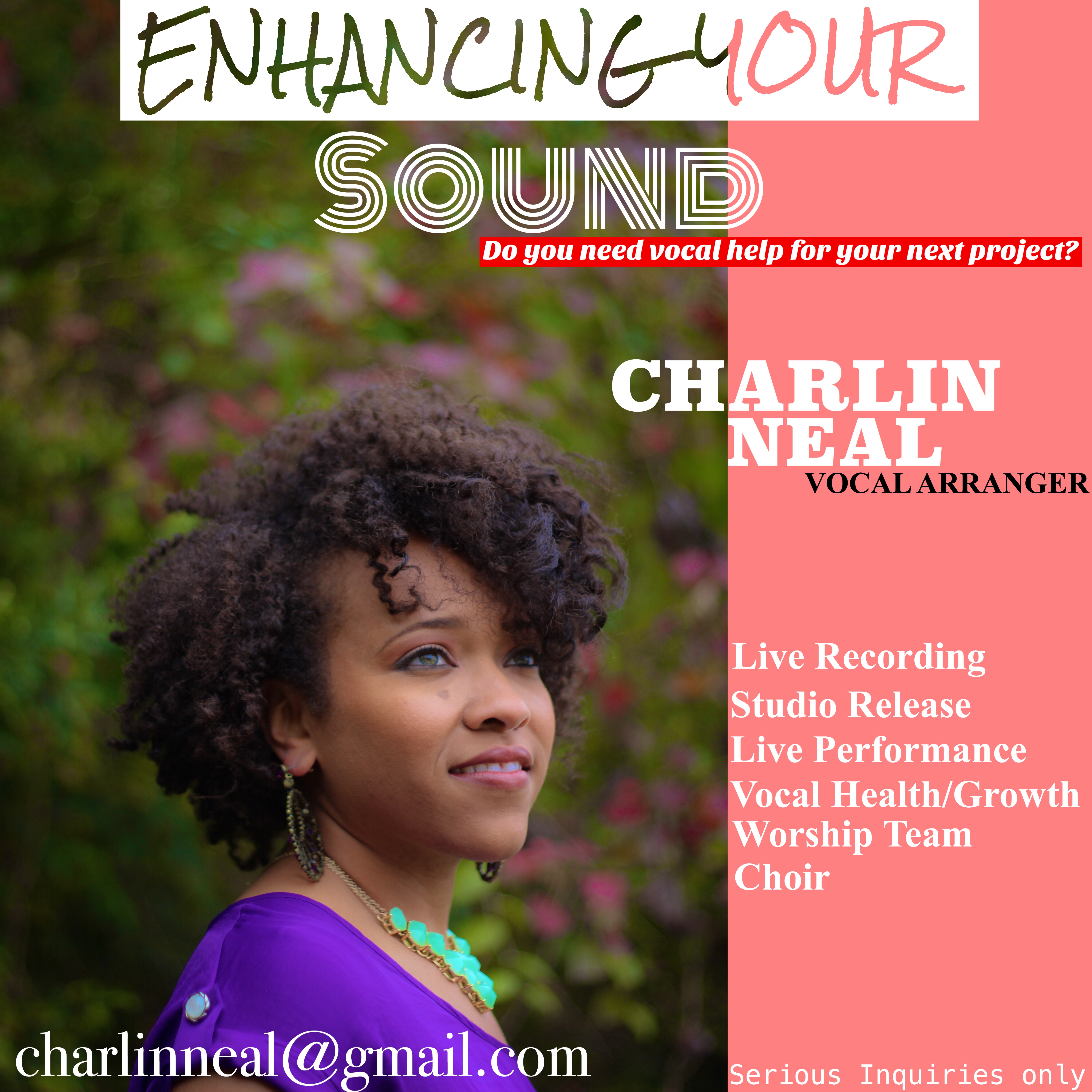 Vocal arranging has been a quiet passion of Charlin's since she was in her early teens. Singing alongside her nine siblings, she developed a love for smooth harmonies, vibrato approach, and various vocal techniques that have gone unnoticed in today's music generation.

Charlin has vocal produced for artists such as Grammy Award Winning Group Israel and New Breed (Covered: Alive in Asia), BJ Putnam (Love Like Fire), Onaje Jefferson (Heaven Rain Extended EP), Alma Rivera (Single- Great God), Jordan and Isaac Bradford (I Am Free-single), Lucia Parker (Es la Sangre de Jesus/Oh The Blood Of Jesus) and Right Now, Multi-tracks The Recording Collective (Born Is The King Christmas EP) & The Recording Collective Gospel Vol. 2 & 3,  Ricardo Sanchez Taste & See Live.

Charlin along with her some of her siblings and Mother, The Moore Family consisting of Linda, Timothy, Ayrian, Zachary, Carisa, Veronica, Criston, and Hailey, have been featured on Grammy Nominated Artist Jonathan McReynolds Life Music: Stage Two album, Charlin Neal's EP More Of You and Lamb Of God, Multi-tracks The Recording Collective (Born Is The King Christmas EP), Jason White's Single It Didn't Prevail, and Alma Rivera's Single Great God. They have shared the stage with Israel Houghton and New Breed, Mary Mary, Martha Munizzi, Marvin Sapp, and others. 

Are you in need of assistance or consultation of vocal arrangements for your live recording, studio release, or live performances? 
Would you like The Moore Family to supply powerful and well blended harmonies for your next big project?
Would you like to feature The Moore Family at your Music Workshop, focusing on all elements of Vocals, Drummers, and Keyboardists? 
Or would you like Charlin to be your guest Vocal Clinician for your choir or praise team's Vocal Workshop?

Contact Charlin at charlinneal@gmail.com for further information.
VOCAL PRODUCED BY CHARLIN
Artists The Moore Family Have Recorded With