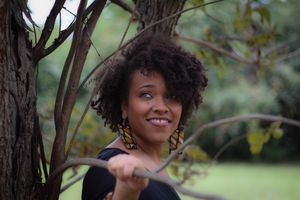 Charlin. the calling. the future.
Vocal Producer and Worship Leader, Charlin Neal is no stranger to the gospel music industry. Her signature soprano sound can be heard within the Gospel and CCM world.
For 15 years, she has toured the globe with Grammy winning Gospel group Israel Houghton and New Breed, serving as the Vocal Director. Charlin is also a member of MultiTracks branch, The Recording Collective. She has Vocal Produced for Israel Houghton and New Breed, MultiTracks, Ricardo Sanchez, BJ Putnam, Lucia Parker, Swedish Artist Samuel Ljungblahd, and other's. She has recorded on projects for Snoop Dogg, Michael Gungor, Jonathan McReynolds, Jason Nelson, Bethany Music and others. She has shared the stage with music giants Aretha Franklin, Chris Tomlin, Michael W. Smith, Kirk Franklin,Toby Mac, Chandler Moore , Todd Dulaney, Hillsong, and many others. 
On April 6th, Charlin released a EP entitled "Jesus Is Alive." This 6 track EP features anthem like songs celebrating Jesus Christ's death, burial, and resurrection. 
Charlin received her Bachelor of Arts degree in Communications (Journalism) with a minor in Music (Voice Studies) from California State University Bakersfield. 
Charlin has a heart for God and a love for his people. Daily she strives to utilize her gifts and talents simply to glorify Him and equip, encourage, and inspire others in doing so. 
Charlin currently serves as the Vocal Director at her local church, Valley Baptist Church (www.valleybaptist.org).
Charlin and husband Kevin reside in Bakersfield, California. They have 3 beautiful children Katelin (15), Kaydin (3), and Kennedy (2).